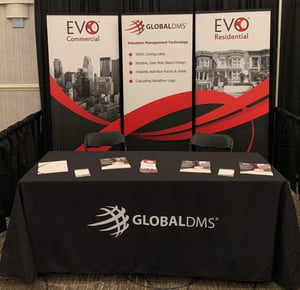 Are you attending the virtual Valuation Expo October 1-3? Global DMS® is proud to sponsor this awesome event and we'd like to invite you to interact with our knowledgeable and friendly team on October 2nd at our online booth!
At Global DMS, we provide next-generation appraisal management technologies that allow mortgage lenders and AMCs to better manage an ever-growing number of appraisal requests through both innovative tools and workflow automation that promote a fully digital process and reduce turn-times.
Known as EVO™, our revolutionary appraisal management software was built on best-practice from years of collaborating with different clients – providing a customized experience that's roll-based, where every user has their own personalized dashboard and task list to help drive optimal performance. In addition, the platform is also 100% configurable (including fields), allowing lenders and AMCs to tailor all aspects of the software and its functionality to their exact needs in real time – no development intervention required.
If you're tired of using archaic appraisal management technologies that only promote outdated and cumbersome processes, stop by our virtual booth on October 2nd to learn more about EVO and the true difference maker it can be for your real estate valuation process.
Also, don't miss our demo on October 2nd to see EVO in action!
For more information on Valuation Expo, check out the event's website.
EVO's Comprehensive Reporting Provides Instant Visibility
Achieving complete visibility over your real estate appraisal process is essential for promoting organization and effective practices that provide efficient turn-times. However, achieving this visibility over what's typically an intricate process is near impossible without a robust reporting tool that promotes automation. Global DMS' EVO™ appraisal management software provides this comprehensive overview of one's valuation process via its next-gen reporting capabilities, which include both built-in reports and the ability to create custom reports in minutes that instantly capture data from any field or action taken – ensuring the availability of critical information when it's needed most.