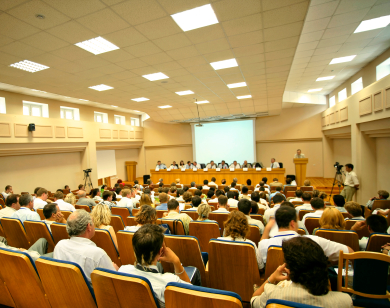 Attending an industry conference or seminar is one of the best things you can do for the future of your business, yet many professionals within the industry ignore these valuable resources every year. These conferences are designed to give you a plethora of usable content on a variety of relevant subjects, and will be sure to keep you up-to-date with the latest changes that are occurring within the industry—which we all know happens on almost a daily basis now-a-days.
Conferences offer the opportunity for you to be introduced to several industry experts in a short amount of time—typically over a 2-3 day period—and most importantly allow you to network with others who work in your field. An industry expert who's a good seminar speaker—which most tend to be—will provide you with a magnitude of usable content that will be beneficial to your work and industry insight almost immediately.
Many of you probably avoid these conferences and seminars, because you don't want to be "sold" something with an overly extended sales pitch that leaves you yearning for the exit door. It is inevitable that certain speakers—but certainly not all—will try to promote their latest and greatest products and services, but these products and services might just be what your business needs to thrive and to stay compliant with the ever changing regulations. Point is, these sales pitches will be relevant to the industry topics at hand, and the last thing you need is to miss out on a great opportunity that could help you stay ahead of the curve.
You should strongly consider attending at least 2-4 conferences or seminars each year, and be sure to research what the conferences are about and who will be there so you know if it will be of relevance to your company.
The 12 benefits of attending a conference or seminar:
Learn new information from presenters
Networking with new people within your field
The ability to share your ideas and get immediate feedback from credible individuals
Enables you to evaluate the latest technologies that can potentially help grow your business
Lets you locate possible investors for your business
Lets you buy new products or services that are usually at marked-down prices specifically for the event
Get answers to your business questions and challenges from credible individuals
Collecting of presentation materials to take home with you for later reference and study
Learning of free resources you can try
Learning about facts and statistics that will help you to better understand the market and industry
Allows you to increase your email lists and lead generation by receiving other peoples' business cards
Allows you to build traffic to your website by passing out your business cards or brochures
What NOT to do at a Conference
Most of this advice is pretty obvious, but you would be surprised at the many people who don't follow these simple protocols:
Don't act like you know more than everyone there and especially don't correct the speakers—this only creates enemies and will hurt your business.
Don't talk constantly or ask an absurd amount of questions. There's nothing wrong with asking a few legitimate questions, but you can't take up everyone's time because you're behind on the learning curve—read and research as much as you can before attending a conference so you're not completely blindsided.
Don't stop the speakers on the breaks to simply have some small-talk. There is nothing wrong with stopping a speaker in the lobby to quickly introduce yourself and to tell them you enjoyed their speech; but their schedules are usually very tight and you should always respect their personal time.
Never act in any way that will harm your company's reputation, which means control your drinking at social functions and events. We all like to have fun while we're out of town, and there's nothing wrong with unwinding a little bit at one of these events. Just be sure that the impression you're leaving with others is a positive one, otherwise all your networking will be for nothing.
GlobalDMS attends many conferences and seminars each year, and our company has benefited tremendously from attending these events. We will be at several upcoming conferences over the next few months, so be sure to keep a look out for the Global DMS team if you're in attendance.
The Five Star Default Servicing Conference & Expo:
Dallas, TX—September 4th-9th
http://www.thefivestar.com/fsc-2012/
ABA Annual Convention:
San Diego, CA—October 14th-16th
http://www.aba.com/Training/Conferences/Pages/annual.aspx
MBA's 99th Annual Convention & Expo:
Chicago, IL—October 21st-24th
http://events.mortgagebankers.org/99th_annual/default.html
Appraisal Summit & Expo:
Las Vegas, NV—October 24th-26th
http://www.appraisalsummit.net/
Valuation Expo:
San Antonio, TX—November 8th-10th
http://www.valuationexpo.com/