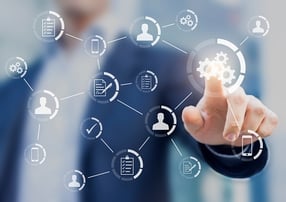 In today's mortgage industry, many organizations have a unique appraisal process that fits their exact business model. Unfortunately, most valuation management technologies follow a one-size fits-all approach – requiring lengthy and expensive development work for the simplest of requests.
Global DMS' EVO™ appraisal management software is different, providing a 100% configurable platform that allows the end-user to customize all aspects of the software in real-time (including fields) – no development work required.
Workflow Automation Tailored to Your Business Model:
EVO modernizes your appraisal process via its powerful workflow automation, which not only covers the entire process, but fits any valuation business model thanks to its configurable design that puts the end-user in direct control.
Digital Forms in Templated Format:
EVO provides digital order and review forms in a templated format that are completely customizable, allowing you to meet any given assignment as they're presented.
Complete Visibility w/ Custom Reporting:
EVO's robust and configurable reporting includes both built-in reports and the ability to create custom reports in minutes that capture every field and action taken – providing a complete overview of your appraisal process and all those involved.
Unlike its competitors, EVO delivers this customization out-of-the-box – granting you far more control over your appraisal management workflow than ever before and eliminating the need for costly development work that can take weeks, if not months, to complete.
Interested in a demo? Contact Global DMS® today at evoinfo@globaldms.com.
Ready to start vetting appraisal fintech providers, but not sure where to start?
If you're looking for new appraisal management software, but not sure where to begin, Global DMS' latest whitepaper addresses this critical process, providing best-practices for internal planning, external research, software implementation, and customer support.