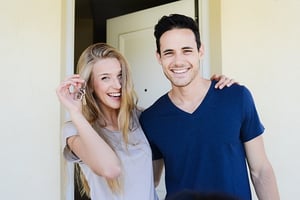 According to a recent survey from realtor.com® and HarrisX of 2,000 millennial home shoppers, nearly half plan to speed up their timelines during the next year and are willing to adjust to virtual methods due to the COVID-19 pandemic.
The survey did show that this generation is prepared for a competitive market, as 71% expect some or a lot of competition when shopping for homes. However, the data also reported that 68% have been able to better save due to the shelter in place orders that have occurred throughout the country.
75% of respondents noted that they have been working remotely since the initial wave of COVID struck the country back in March. Of that 75%, nearly 63% said they plan on purchasing a home because of their ability to work remotely.
In addition, roughly 59% of the millennial respondents mentioned that COVID-19 has changed the way they currently shop for homes, with many now spending more time researching properties online, looking at listing photos, and watching listing videos.
For more information, including additional metrics, check out realtor.com and HarrisX's survey.
Sources:
realtor.com – realtor.com
HarrisX – harris.com
MortgageOrb
EVO's Centralized, Role-Based Design Simplifies Appraisal Management
For most financial institutions, the real estate appraisal process often involves a complex web of different players, including both internal staff and external vendors. Global DMS' EVO™ appraisal management software simplifies how one manages this crucial process by providing a centralized platform that facilitates all documentation and communications, with custom dashboards and task lists based on the user's role that prevent the cross-population of work – enabling a cohesive valuation workflow. Contact us today for more information or to see a quick demo.