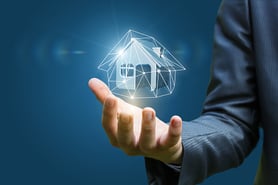 After last year's record loan numbers, many mortgage lenders and AMCs felt the crunch that such large volumes can have on their current processes – especially with real estate appraisals.
Though it's true that appraiser attrition remains a key issue, next-generation valuation management technologies can help bridge the gap, allowing lenders and AMCs to better manage their appraisal workflows through innovative tools and workflow automation that promote a fully digital process.
Remote Inspection Technology:
A next-gen appraisal management software will provide lenders and AMCs with a secure and efficient method for conducting remote real estate inspections via innovative mobile apps, which allow the home occupant to take and submit the required pictures of the subject property from their phone or tablet.
AVMs Provide Alternative Method That's Proven:
An appraisal management technology should always provide direct access to proven AVM products – such as those from Black Knight® and Collateral Analytics™. These products deliver accurate, timely, and cost-effective property value information, helping to quickly validate or complete appraisal reports.
Configurable Workflow Automation, Forms, and Reporting:
Best practice advises lenders and AMCs to implement a configurable appraisal management technology that automates their unique valuation process – eliminating manual touch points, increasing speed, and more effectively managing compliance. With a couple clicks of the mouse, users can instantly customize the entire system to their exact needs, including its fields, forms, reports, and more.
Take Control with EVO:
Global DMS' EVO™ appraisal management software not only automates the entire real estate appraisal process, it empowers mortgage lenders and AMCs with a technological advantage over every other platform on the market via its unprecedented user-configurability, which allows them to easily customize all aspects of the system down to the field level.
Additional benefits include:
Automated appraiser and reviewer assignments, promoting efficient turn-times.
Virtual Inspection Tool provides remote inspections via secure photo sharing.
Digital forms that can be easily customized, saved, and updated in minutes.
Complete visibility with custom reporting that captures every field and action taken.
Unique Marketplace provides direct access to industry leading AVMs.
For more information, contact Global DMS® today at evoinfo@globaldms.com.