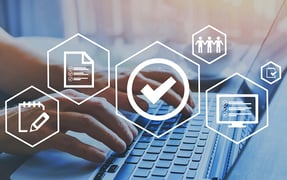 Those that embrace real estate appraisal management technologies from an experienced appraisal fintech will realize clear advantages in not only the overall functionality of the software, but the partnership itself – from implementation, to training, to ongoing support.
At Global DMS®, we've utilized our 22 years of experience working with mortgage lenders, banks, credit unions, AMCs, and appraisal companies of all sizes to create sound implementation and customer support strategies that fit the different needs of our diverse clientele – providing quick adoption and efficient support as needed.
We've also taken this time to work and collaborate directly with our various clients when developing new technologies—like our latest appraisal management platform EVO™—to produce software that yields true results by providing the functionality needed to meet today's challenges and beyond.
EVO differentiates itself form other platforms on the market by providing a wide-range of benefits and features that standout, including:
100% user-configurability that allows for the creation and updating of fields, forms, reports, and more – no waiting on IT departments or third-party developers.
Customizable workflow automation that covers your specific process, reducing appraisal turn-times by up to 30%.
Best-in-class auto-assignments of vendors and reviewers, powered by advanced cascading decisioning technology.
Role-based design with configurable user-permissions that provide custom dashboards and task lists.
Lowers portfolio risk by instantly analyzing past appraisals and logging every action that's taken, including communications.
Provides complete visibility via built-in and custom reports, which can be run ad hoc or automatically during any point of the process.
Sound compliance – all backed by the industry's only Compliance Guarantee Program.
Ready to start vetting appraisal fintech providers, but not sure where to start?
If you're looking for new appraisal management software, but not sure where to start, Global DMS' latest whitepaper addresses this critical process, providing best-practices for internal planning, external research, software implementation, and customer support. Download your free copy here.
To learn more about EVO and its award winning functionality, contact Global DMS today at evoinfo@globaldms.com.