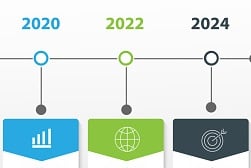 Fannie Mae and Freddie Mac recently unveiled their latest high-level timeline that features key milestones and date ranges for their joint UAD and Forms Redesign initiative, which will take multiple years to complete.
According to Fannie's UAD webpage, the GSEs' plan is to leverage extensive stakeholder input to update the appraisal dataset, align it with the industry-standard MISMO® Reference Model Version 3.X, and overhaul the uniform appraisal forms to establish a more flexible and dynamic structure for appraisal reporting.
In 2021, Fannie and Freddie plan to build industry awareness as well as work on specifications and report design. The GSEs will then develop the updated dataset and forms in 2022 and 2023 and begin planning the implementation process – with implementations beginning in 2024.
For all the details, check out Fannie Mae and Freddie Mac's timeline.
For a high-level overview of the GSEs' UAD and Forms Redesign initiative, check out the following video.
Sources:
Fannie Mae – fanniemae.com
Freddie Mac – freddiemac.com
EVO's Centralized, Role-Based Design Simplifies Appraisal Management
For most financial institutions, the real estate appraisal process often involves a complex web of different players, including both internal staff and external vendors. Global DMS' EVO™ appraisal management software simplifies how one manages this crucial process by providing a centralized platform that facilitates all documentation and communications, with custom dashboards and task lists based on the user's role that prevent the cross-population of work – enabling a cohesive valuation workflow. Contact us today for more information or to see a quick demo.