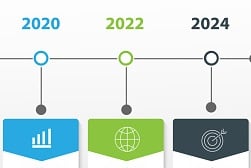 Fannie Mae and Freddie Mac recently unveiled their latest high-level timeline that features key milestones and date ranges for their joint UAD and Forms Redesign initiative, which will take multiple years to complete.
According to Fannie's UAD webpage, the GSEs' plan is to leverage extensive stakeholder input to update the appraisal dataset, align it with the industry-standard MISMO® Reference Model Version 3.X, and overhaul the uniform appraisal forms to establish a more flexible and dynamic structure for appraisal reporting.
In 2021, Fannie and Freddie plan to build industry awareness as well as work on specifications and report design. The GSEs will then develop the updated dataset and forms in 2022 and 2023 and begin planning the implementation process – with implementations beginning in 2024.
For all the details, check out Fannie Mae and Freddie Mac's timeline.
For a high-level overview of the GSEs' UAD and Forms Redesign initiative, check out the following video.
Sources:
Fannie Mae – fanniemae.com
Freddie Mac – freddiemac.com