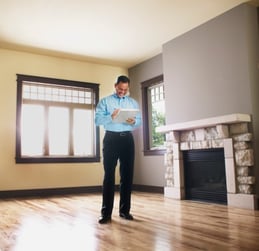 Ever since the Great Recession, and the implementation of the Home Valuation Code of Conduct (HVCC) as a result, ensuring appraiser independence during the mortgage loan cycle has been a key compliance requirement for lenders, mortgage companies, and credit unions, especially as federal regulators continue to crack down on the manipulation of real estate appraisals.
For most financial institutions, the real estate appraisal process often involves an intricate web of different players, including both internal staff and external vendors. As a result, managing this process—while ensuring compliance with today's Appraiser Independence Requirements (AIR)—has become far more complex.
Global DMS' EVO™ appraisal management software simplifies this process by providing a centralized platform that facilitates all documentation and communications, with custom dashboards and task lists based on the user's specific role to prevent the cross-population of work and ensure AIR compliance through strict user-permissions – enabling a cohesive valuation workflow for any business model.
EVO's auto-assignment functionality also ensures AIR compliance by completely removing the need for any human intervention or influence. The platform's powerful AI technology emulates one's thought process via dynamic rule sets that are easily set ahead of time by the appropriate manager, ensuring only qualified appraisers and reviewers are selected and notified via automated messaging.
EVO also automates appraisal reviews by quickly analyzing an appraisal for completeness, consistency, and compliance with all GSE guidelines, USPAP, UAD, and industry best-practice – providing accurate reviews in seconds, with zero human influence.
In addition, EVO ensures your lending institution is always audit-ready, as every action taken within the system (including both internal and external emails) is tracked, stored, logged, and instantly reportable through the software's innovative reporting tool.
Unlike with other software providers, EVO users are fully protected under Global DMS' unique Compliance Guarantee Program, which covers any fines if a client is found out of compliance but following the platform's Best Practice Configuration based on the automation above, in addition to other features – including automated delivery to the GSEs, FHA, and borrowers.
Complying with AIR is essential in today's mortgage lending environment, as those found out of compliance could face fines of over $10,000 from federal regulators, in addition to other harsh penalties. Eliminate this concern with EVO and check out a short demo today!