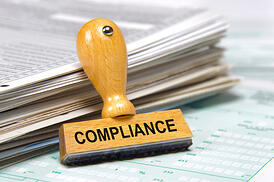 No matter what changes occur in the real estate valuation industry, remaining compliant is always at the forefront of every business, as one mis-step can have catastrophic consequences.
Global DMS' EVO™ appraisal management software not only provides your organization with an innovative technology platform that's customizable down to the field level, it protects your business against the many regulations that govern the appraisal industry – keeping your operations in full compliance at all times.
Unlike with other software providers, EVO users are fully protected under Global DMS' unique Compliance Guarantee Program, which covers all fines in the event a client is found out of compliance but is using the platform's Best Practice Configuration that's based on automation.
This unique program effectively removes appraisal risk from the equation, while ensuring all EVO users comply with Dodd-Frank's Section 1471, ECOA's Regulation B, TILA's Regulation Z, USPAP, and both the GSEs and FHA's seller guides.
Additional EVO compliance measures include:
Intuitive dashboards and task lists, where staff and vendors only see what they need to see.
Full visibility with built-in and custom reporting that captures every field and action taken.
Detailed audit trails, as every action and email are tracked, stored, and logged.
For more information on EVO and its revolutionary Compliance Guarantee Program, contact Global DMS® today at evoinfo@globaldms.com.
How Compliant Are Your Appraisal Operations?
Find out if your organization has the compliance checks it truly needs via Global DMS' Ultimate Compliance Checklist. Download your free copy here.