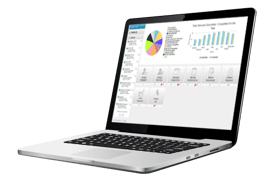 When vetting real estate appraisal management technologies, it's important for lenders and AMCs to work with a software platform that not only promotes a fully digital process, but also provides user-controlled configurations that allow them to personalize the entire system down to the field-level.
Global DMS' EVO™ appraisal management software is the only platform available that provides this innovation, streamlining your valuation process via a customizable design that automates 100% of routine tasks, alerts you along the way, and provides powerful reporting.
EVO is 100% user-configurable, providing you with complete control over the entire platform, including its fields, reports, forms, user-permissions, workflow automation, communications, and much more. It's also the only software of its kind specifically designed to handle both commercial and residential appraisal orders, covering both processes from initial assignment to review to delivery.
Additional benefits include:
Meticulous vendor management that seamlessly facilitates fee tables, DNU and Approved lists, auto-assignments, payments, and communications.
Sound order management that centralizes and tracks your documentation and communications, providing staff and vendors with custom dashboards and task lists based on their specific role.
Digital order and review forms that are customizable, auto-populate data, and are trackable.
Virtual Inspection Tool that provides subject property photos directly from the current occupant, who also answers pre-set questions about the property's condition.
Automated reviews that significantly reduces internal review times by instantly providing clear detectives on a resolution.
Comprehensive reporting that captures every field and action taken, which can be automated and delivered as needed.
Full appraisal compliance, with the industry's only Compliance Guarantee Program.
Bottom line? EVO drives down appraisal costs while producing significantly better turnaround times. To learn more, contact us today at evoinfo@globaldms.com.