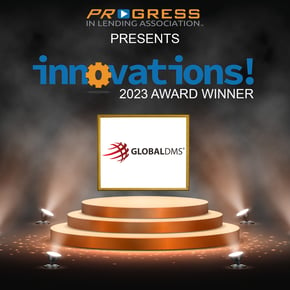 LANSDALE, PA, March 6, 2023 – Global DMS, a leading provider of cloud-based appraisal management software, is excited to announce that we have been selected for the Innovations Award from PROGRESS in Lending, which recognizes companies that have come together to create something truly game-changing for the mortgage space.
In 2021 President Biden created PAVE.
PAVE is a first-of-its-kind 13 interagency task force with a directive to end bias in home valuation, which also resulted in new rules and guidelines for algorithmic bias prevention in the appraisal process.
Less than a year later, GlobalDMS introduced EVO Bias Alert™.
Vladimir Bien-Aime, president and chief executive officer of Global DMS offered, "Global DMS recognized the continuing trend of appraisal bias in America and felt it imperative to develop a solution to address it. The addition of EVO Bias Alert™ will provide lenders an integrated and automated tool to proactively identify and notify them in real-time of potentially biased appraisals to minimize legal, financial and reputational risk."
Utilizing a patent-pending process that automatically compares the appraisal data submitted by the appraiser to data from lender-grade automated valuation models to determine if there is a discrepancy in the stated values, Bias Alert™ eliminates the need for human intervention allowing lenders and appraisers to not only meet, but also expand on the PAVE initiative.
Most recently, African American homeowners Paul and Tenisha Tate-Austin saw a $500,000 difference in valuation after "whitewashing" their home.

Erica and Aaron Parker were lowballed by $40,000, but their property was appraised at a higher value when the second appraiser didn't know they were African Americans.

The home value of Nathan Connolly and Shani Mott rose nearly $300K after it was shown to the new appraiser by a white colleague.
With the EVO platform and Bias Alert™ GlobalDMS ensures an efficient and compliant appraisal process that eliminates appraisal bias risk - yet another industry first. This allows lenders and appraisers to meet the needs set forth by PAVE, while providing a safe and fair appraisal process for the homeowner, without bias.

The damage of undervaluing a home can result in devastating blows to any family's economic and social stability. Many Americans have long since used their homes as collateral for securing loans to put their children through college. A home is an asset to be passed down from generation to generation - resulting in the growth and stability of not only the American economy but also for the preservation of our nation's communities.

GlobalDMS is proud to be named the recipient of PROGRESS In Lending's 2023 Innovation Award. To exist in a time where, along with our nation's leaders, GlobalDMS' core values are recognized across the nation as an essential piece of the puzzle that desperately needs solving to eliminate bias in all aspects of humanity, regardless of the color of one's skin.
To see the full list of award winners click here.
About Global DMS:
Founded in 1999 and headquartered in Pennsylvania, Global DMS is a leading provider of cloud-based commercial and residential real estate valuation solutions. The company's solution set is cost-effectively delivered on a software-as-a-service (SaaS) transactional basis that ensures compliance adherence, reduces costs, increases efficiencies, and expedites the entire real estate appraisal process. Global DMS solutions include its new EVO-Residential™ (EVO-Res) platform for residential lending, EVO-Commercial™ (EVO-C) platform for commercial lending, eTrac® Enterprise valuation management platform for residential lending, SnapVal™ appraisal pricing solution, eTrac WebForms, Global Kinex®, AVMs, the MISMO Appraisal Review System (MARS®), ATOM (Appraisal Tracking on Mobile). For more information, visit www.globaldms.com or call (877) 866-2747.