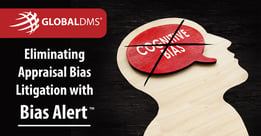 Phoenix, AZ: September 28, 2022 – Global DMS®, a leading provider of cloud-based valuation technology solutions, is excited to announce the addition of Bias Alert™ to the award-winning EVO-Residential™ valuation technology platform. Bias Alert is new technology that alerts Lenders about the potential presence of bias in an appraisal before the appraisal is released externally to the borrower(s).

Bias Alert eliminates human intervention and therefore the presence of both purposeful and unconscious bias as soon as the appraisal is submitted to the lender. Bias Alert utilizes a patent-pending process that automatically compares the appraisal data submitted by the appraiser to data from lender-grade automated valuation models to determine if there is a discrepancy in the stated values.
"Given the appetite for a comprehensive solution to eliminate appraiser bias, we knew we needed to come up with a way to allow client-specific flexibility while still allowing the data to speak louder than any human intervention could", says Jody Collup, Global DMS chief operating officer. "We didn't want to put forth a feature that only did half the job or allowed any human user to influence the outcome in either direction, positive or negative."
Within the EVO admin set-up, lenders can choose a predetermined percentage level of accepted appraised value variance along with a confidence score threshold. EVO users receive alert messaging as well as a Bias Alert report when a potentially biased appraisal hits their specified variance threshold. Lenders can then examine the issues and choose to continue forward, request appraisal revisions or reassign for a new appraisal.
Vladimir Bien-Aime, president and chief executive officer of Global DMS offered, "Global DMS recognized the continuing trend of appraiser bias in America and felt it imperative to develop a solution to address it. EVO Bias Alert will provide lenders an integrated and automated tool to proactively identify and notify them in real-time of potentially biased appraisals to minimize legal, financial and reputational risk."
About Global DMS:
Founded in 1999, Global DMS is a leading provider of cloud-based commercial and residential real estate valuation solutions. The company's solution set is cost-effectively delivered on a software-as-a-service (SaaS) transactional basis that ensures compliance adherence, reduces costs, increases efficiencies, and expedites the entire real estate appraisal process. Global DMS solutions include its new EVO-Residential™ (EVO-Res) platform for residential lending, EVO-Commercial™ (EVO-C) platform for commercial lending, MyEVO Alexa Skill, eTrac® Enterprise valuation management platform for residential lending, SnapVal™ appraisal pricing solution, eTrac WebForms, Global Kinex®, AVMs, the MISMO Appraisal Review System (MARS®), ATOM (Appraisal Tracking on Mobile). For more information, visit
www.globaldms.com
or call (877) 866-2747.