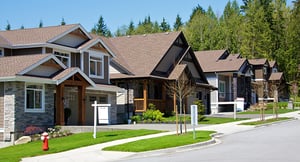 As we begin the new year, many are wondering what may be in store for the housing market in 2021 after what was a banner 2020. Realtor.com recently issued its "Housing 2021 Forecast," which looks into just that – providing insights on what we might expect this upcoming year.
According to realtor.com's forecast, the housing inventory shortage should begin to slowly improve, with more homes hitting the market and a 9% increase in construction starts. Of course, much of this will be predicated on COVID-19 and its continued effects on the overall economy.
Speaking of COVID-19, and the increased demand it's caused for suburban properties, realtor.com feels this trend may begin to fade. However, much of this will depend on the success of the vaccine and if remote work continues as a long-term option.
The forecast went on to predict that 2021 will continue to be a seller's market, with home prices hitting new highs. In addition, realtor.com's economists also believe that mortgage rates will increase to around 3% before slowly reaching 3.4% by year's end.
To see the full forecast, visit realtor.com.
Sources:
realtor.com – realtor.com
HousingWire – housingwire.com