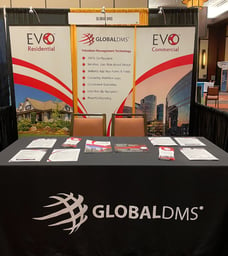 As we round out the third quarter and busy homebuying season, Global DMS® will be hitting the road for several mortgage industry events in September and welcome all those in attendance to stop by our booths!
Our knowledgeable team looks forward to sharing their insights regarding appraisal management technology and its best practices for today's digital mortgage environment, and will also be exhibiting our innovative EVO™ appraisal management software, whose next-gen features significantly reduce valuation turn-times and provide far more control over one's appraisal process than ever before.
Upcoming Conference Lineup:
If you're also attending one of these events, stop by the Global DMS booth to learn how EVO can transform your real estate appraisal process with visible results that lead to quicker closings.
Self-Configurable Technology is Key for an Efficient Appraisal Process
Do you follow a specific real estate appraisal process that matches your exact business model, with unique terminology, forms, communications, and reports? Though the trend to digital is real, most appraisal management technologies follow a one-size fits-all approach – requiring lengthy and expensive development work for the simplest of changes and requests. Global DMS' EVO appraisal management software is different, providing a 100% self-configurable platform that allows the end-user to customize all aspects of the software on the fly (including fields) – no development work required.