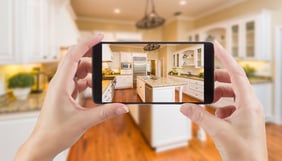 Having the right technology is crucial for ensuring timely real estate appraisals amid large volumes, appraiser attrition, and an ever-growing list of compliance regulations that can seem overwhelming.
COVID-19, and its social distancing guidelines, opened the door for innovative tools that allow mortgage lenders, AMCs, and appraisers to complete compliant inspections without ever setting foot on the property – leading to newfound efficiencies and the ability to complete more orders in half the time.
Global DMS' EVO™ appraisal management software, a next-generation technology that promotes a fully digital valuation process, provides such functionality via its Virtual Inspection Tool and robust AVM lineup that allows these entities to complete appraisals right from their desk.
With EVO's Virtual Inspection Tool, users can secure the required pictures of a subject property directly from its current occupant, who also answers pre-set questions about the property's condition. The entire process is automated, secure, protects against fraud, and requires no additional work or oversight from those using EVO, who never have to leave the platform.
Likewise, EVO also ensures you have the data you need when you need it by providing direct access to industry-leading AVMs from within its unique Marketplace. This includes products from Black Knight® and Collateral Analytics™, which are designed to deliver accurate, timely, and cost-effective property value information right to your computer or mobile device.
For more information, or to see a quick demo, contact Global DMS® today at evoinfo@globaldms.com.
EVO™ Provides Worry-Free Compliance, Guaranteed
No matter what changes occur in the real estate appraisal industry, remaining compliant is always at the forefront of every business, as one mis-step can have catastrophic consequences. Global DMS' EVO appraisal management software protects your business via our unique Compliance Guarantee Program, which covers all fines in the event a client is found out of compliance but is using the platform's Best Practice Configuration that's based on automation. This unique program effectively removes appraisal risk from the equation, while ensuring all EVO users comply with Dodd-Frank's Section 1471, ECOA's Regulation B, TILA's Regulation Z, USPAP, and both the GSEs and FHA's seller guides.