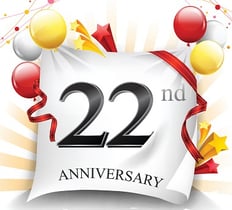 Today, Global DMS celebrates its 22nd anniversary as a business and we couldn't be prouder of our amazing team, both past and present, who've helped us achieve this milestone.
As we recount all the wonderful memories we've created along the way, we also reflect on the many great friendships we've made throughout the mortgage industry – especially with our clients. We'd like to thank you for your unwavering loyalty and valuable input, which has allowed us to continue our passion of developing innovative real estate valuation technologies.
Looking to the future, Global DMS pledges boldness in the years ahead to remain innovative so that we continue to produce the best appraisal software possible.
Ever onward!