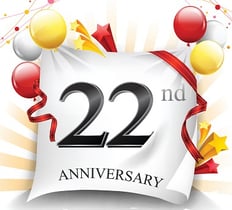 Today, Global DMS celebrates its 22nd anniversary as a business and we couldn't be prouder of our amazing team, both past and present, who've helped us achieve this milestone.
As we recount all the wonderful memories we've created along the way, we also reflect on the many great friendships we've made throughout the mortgage industry – especially with our clients. We'd like to thank you for your unwavering loyalty and valuable input, which has allowed us to continue our passion of developing innovative real estate valuation technologies.
Looking to the future, Global DMS pledges boldness in the years ahead to remain innovative so that we continue to produce the best appraisal software possible.
Ever onward!
EVO™ Provides Worry-Free Compliance, Guaranteed
No matter what changes occur in the real estate appraisal industry, remaining compliant is always at the forefront of every business, as one mis-step can have catastrophic consequences. Global DMS' EVO appraisal management software protects your business via our unique Compliance Guarantee Program, which covers all fines in the event a client is found out of compliance but is using the platform's Best Practice Configuration that's based on automation. This unique program effectively removes appraisal risk from the equation, while ensuring all EVO users comply with Dodd-Frank's Section 1471, ECOA's Regulation B, TILA's Regulation Z, USPAP, and both the GSEs and FHA's seller guides.