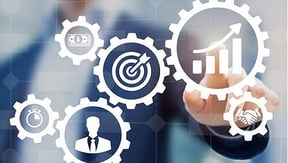 ICE Mortgage Technology™ recently conducted its latest Origination Insights Report, which found that the average closing time for all loan-types decreased in the first quarter by several days.
According to the company's analysis, purchase loan closings decreased from 57 days in January to 51 days in March. Likewise, refinance closings decreased from 59 days in January to 52 days in March. In addition, the report also found that closing rates increased on all loan-types, with purchase loans rising from 77.1% in February to 78.1% in March and refinances rising from 76.3% to 78% during this same time period.
ICE Mortgage Technology mentioned that part of the reason for these decreased turn-times is the fact that more mortgage lenders are continuing to adopt digital technologies, which help provide a more efficient origination process by streamlining traditionally manual processes.
This is especially true for real estate appraisals, where appraiser attrition and social distancing guidelines have created a need for digital technologies that support hybrid products in order to keep originations moving forward. Lenders who embrace these innovative products can decrease their appraisal turn-times by up to 30% – significantly reducing their overall closing times.
For more market details, check out ICE Mortgage Technology's report.
Sources:
ICE Mortgage Technology™ – icemortgagetechnology.com
The MReport – themreport.com
Self-Configurable Technology is Key for an Efficient Appraisal Process
Do you follow a specific real estate appraisal process that matches your exact business model, with unique terminology, forms, communications, and reports? Though the trend to digital is real, most appraisal management technologies follow a one-size fits-all approach – requiring lengthy and expensive development work for the simplest of changes and requests. Global DMS' EVO™ appraisal management software is different, providing a 100% self-configurable platform that allows the end-user to customize all aspects of the software on the fly (including fields) – no development work required. Learn more here.