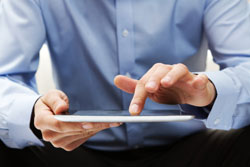 ICE Mortgage Technology™ recently issued its latest "Borrower and Lender Insights Survey", which found that more homebuyers are taking advantage of online tools to help simplify the homebuying process.
According to the company's survey, 58% of borrowers said that the availability of an online application process would likely impact their lender decision, which is up 8% from a similar survey conducted in 2018. Likewise, 99.3% of lender respondents believe that digital technologies can help improve the mortgage application process, with the most commonly cited benefits being their simplicity, reduced closing times, and less data entry.
Online applications and portals are currently offered by 91% of these mortgage lenders, with 60% reporting that more than half of their loan applications were completed online in 2020. That said, the survey did find that larger organizations (those with 200 or more employees) have continued to use more traditional methods, as roughly half of these financial institutions reported that less than 50% of their loan applications were submitted online.
For more information, including additional insights, download your free copy of the survey here.
Sources:
ICE Mortgage Technology™ – icemortgagetechnology.com
DS News – dsnews.com