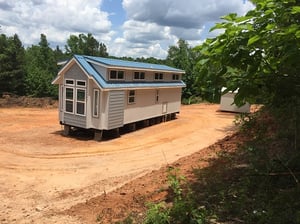 In a recent survey conducted by IPX1031, a Fidelity National Financial Company blog, nearly 2,000 Americans were asked how likely they would be to live in a tiny-home someday.
After tallying the results, IPX1031 found that 56% of its respondents wouldn't mind living in a tiny-home, citing affordability as their top reason for considering such a purchase and lifestyle change.
In order to be considered a tiny-house, the structure must typically be less than 400 square feet with a price range of roughly $30,000 to $60,000. These unique homes can either be stationary or on wheels to provide a more mobile option, which over half of the respondents would prefer.
In addition, IPX1031 also looked into which areas of the country are producing optimal tiny-home markets for both buyers and sellers alike, listing the top states with the highest demand for micro-houses – such as Vermont, New Hampshire, Maine, Wyoming, Oregon, and Alaska, among others.
For more information, including additional metrics, check out IPX1031's article.
Sources:
IPX1031 – ipx1031.com
The MReport – themreport.com