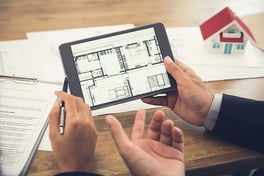 According to recent analysis by Zillow®, ibuyers may once again sell a record number of homes during the third quarter of 2021 – surpassing the all-time high that was just reported during Q2.
Zillow reported that homeowners used an ibuying service to sell more than 15,000 homes in the second quarter, which were worth roughly $5.3 billion. This was over a 50% increase from the numbers seen during Q1, as ibuyers reached 1% of all U.S. home sales for the first time.
To recap, instant buying (or ibuying) is when real estate companies use algorithms to evaluate a property's worth based on comparable market data and then purchase said property directly from the seller via cash transactions. From here, these companies quickly flip the property after making light repairs and updates by placing it on the open market.
Zillow also mentioned that most homes relisted by these ibuyers sold within a week of being on the market, with a third going for above their original list price.
For more information, check out Zillow's press release.
Sources:
Zillow – zillow.com
The MReport – themreport.com
Virtual Inspection Technology Shortens Appraisal Turn-Times
COVID-19 opened the door for innovative tools that allow mortgage lenders, AMCs, and appraisers to complete compliant inspections without ever setting foot on the property – leading to newfound efficiencies. Global DMS' EVO™ appraisal management software provides such functionality via its Virtual Inspection Tool, which allows these entities to complete appraisals right from their desk. Users can secure the required pictures of a subject property directly from its current occupant, who also answers pre-set questions about the property's condition. The entire process is automated, secure, protects against fraud, and requires no additional work or oversight from those using EVO, who never have to leave the platform.