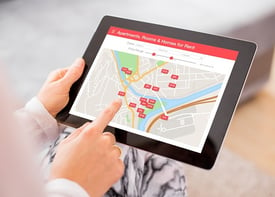 According to research from RE/MAX LLC, about 94% of homebuyers now use online platforms when searching for a new house. This popular trend is a result of the COVID-19 pandemic, which created a need for digital options to help limit the spread of the virus.
Though in-person meetings and house showings have resumed for months now, it appears some of these digital trends and virtual tools are here to stay, as they allow people to easily plan and manage their next move before ever setting foot on the property via video walk-throughs and detailed property descriptions.
To no surprise, RE/MAX LLC found that Millennials have embraced digital technologies the most at 64%, while 44% of Generation X and 25% of Baby Boomers also prefer these virtual tools when home shopping.
In addition, this digital process is also being trusted by more consumers than seen in the past, as the National Association of Realtors found that 70% of buyers and 67% of sellers felt comfortable conducting real estate business on a computer – including reviewing and signing electronic documents.
For more information, check out RE/MAX LLC's report.
Sources:
RE/MAX LLC – remax.com
DS News – dsnews.com
Virtual Inspection Technology Shortens Appraisal Turn-Times
COVID-19 opened the door for innovative tools that allow mortgage lenders, AMCs, and appraisers to complete compliant real estate inspections without ever setting foot on the property – leading to newfound efficiencies. Global DMS' EVO® appraisal management software provides such functionality via its Virtual Inspection Tool, which allows these entities to complete appraisals right from their desk. Users can secure the required pictures of a subject property directly from its current occupant, who also answers pre-set questions about the property's condition. The entire process is automated, secure, protects against fraud, and requires no additional work or oversight from those using EVO, who never have to leave the platform.