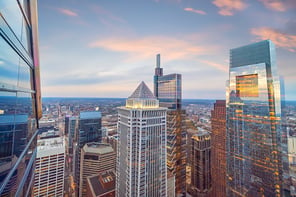 Commercial real estate transactions are typically a lengthy process, especially when it comes to valuing the properties themselves. Unfortunately, this often overlooked sector of the mortgage industry has been stuck in the past, with lenders and appraisers utilizing either antiquated technologies or emails and offline spreadsheets that easily become disorganized and breed confusion.
Recognizing a change was needed, Global DMS® developed the industry's most advanced commercial appraisal management platform, EVO-C® – a next-gen software solution that promotes a digital and automated valuation process through intelligent AI, while centralizing all documentation and communications to ensure organization and a cohesive appraisal workflow.
EVO-C streamlines the commercial appraisal bidding process by providing an easy way to send RFPs to multiple vendors and receive bids electronically. The platform also digitizes your appraisal review forms for an integrated, consistent, and reportable approach for both standard and technical reviews.
Additional benefits include:
100% self-configurable platform, including fields, forms, reports, and much more.
Customizable workflow automation that reduces appraisal turn-times by up to 30%.
Intuitive, role-based dashboards that provide cleaner navigation with less clicks.
Instantly drag and drop large appraisal file uploads with no browser time-outs.
Reduces appraisal review times by up to 25%.
100% control of vendors, who are automatically cross-checked against ASC.gov.
Becoming more efficient starts with the right appraisal technology. Contact Global DMS today at evoinfo@globaldms.com to see how EVO-C is the difference-maker you've been looking for.
EVO's Digital Appraisal Forms Streamline Order Management
Tired of using offline spreadsheets and Word docs for managing your real estate appraisal forms? This often confusing process is not only impossible to track, it also requires duplicate data entry – leading to even more risk and longer turn-times. Global DMS' EVO™ appraisal management software resolves these pain-points by providing digital order and review forms that are 100% configurable, can be automatically selected and pre-populated via intelligent merge fields, and provide complete trackability – ensuring your staff and vendors always have the most up-to-date version of the form as it moves through your unique valuation process.