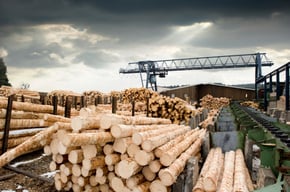 According to a recent article from Mortgage Professional America Magazine, lumber prices have continued to decline after reaching their peak this past May – which was six-times higher than their pandemic-related low in April of 2020.
COVID-19 caused many mills to shutdown operations just as millions of isolated homeowners were seeking more lumber to complete renovation projects, leading to unprecedented price gains. With much of the economy now reopen, Americans are beginning to allocate their money elsewhere, while homebuilders have delayed projects to hold on to their current inventories – dropping prices even further, especially as mills have resumed operations.
So how does this affect the housing market? Recent analysis from the National Association of Homebuilders showed that at their peak, lumber prices rose the price of a single-family home by $35,875, while multifamily properties saw their value increase by $13,000.
Industry experts are predicting that lumber prices will continue to decline through the end of the year, but they mentioned that it could take some time before retail centers notice the rate cuts. They also noted that lumber costs are only one factor impacting housing prices, as supply and demand remain the key culprit that's affecting home values.
Sources:
Mortgage Professional America Magazine – mpamag.com
National Association of Homebuilders (NAHB®) – nahb.org