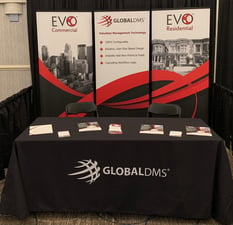 Global DMS® will be hitting the road this summer for several mortgage industry events throughout the country, where we will be exhibiting our next-gen appraisal management software EVO™ and its innovative features that not only reduce valuation turn-times by up to 30%, but give you far more control over your real estate appraisal process than ever before.
Our company's representatives will be located at our designated booth locations for the duration of each event and look forward to sharing their insights about today's digital trends – especially in the appraisal space.
Upcoming Tradeshow Lineup:
If you're also attending one of these conferences, stop by the Global DMS booth and catch up with our team. While there, be sure to ask about how EVO can transform your valuation process with real results that lead to quicker closings.