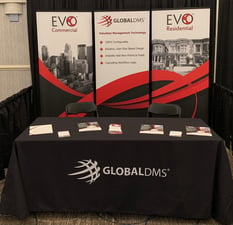 Global DMS® will be hitting the road this summer for several mortgage industry events throughout the country, where we will be exhibiting our next-gen appraisal management software EVO™ and its innovative features that not only reduce valuation turn-times by up to 30%, but give you far more control over your real estate appraisal process than ever before.
Our company's representatives will be located at our designated booth locations for the duration of each event and look forward to sharing their insights about today's digital trends – especially in the appraisal space.
Upcoming Tradeshow Lineup:
If you're also attending one of these conferences, stop by the Global DMS booth and catch up with our team. While there, be sure to ask about how EVO can transform your valuation process with real results that lead to quicker closings.
EVO™ Provides Worry-Free Compliance, Guaranteed
No matter what changes occur in the real estate appraisal industry, remaining compliant is always at the forefront of every business, as one mis-step can have catastrophic consequences. Global DMS' EVO appraisal management software protects your business via our unique Compliance Guarantee Program, which covers all fines in the event a client is found out of compliance but is using the platform's Best Practice Configuration that's based on automation. This unique program effectively removes appraisal risk from the equation, while ensuring all EVO users comply with Dodd-Frank's Section 1471, ECOA's Regulation B, TILA's Regulation Z, USPAP, and both the GSEs and FHA's seller guides.