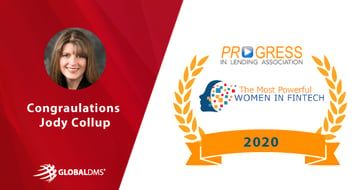 Global DMS® is excited to announce that our COO, Jody Collup, has been recognized by PROGRESS in Lending for its second annual Most Powerful Women in Fintech Award, which honors women leaders at technology companies who are helping reshape the Financial Services industry through innovative and influential ideas.
In addition to her 25 years of diverse experience, Ms. Collup was recognized for her outstanding leadership at Global DMS, which began in 2013 when she was hired as the company's first and only VP of Marketing. From here, Jody began to also oversee Global DMS' sales and account management departments – helping to increase the company's overall profitability through new opportunities.
This success led to Ms. Collup's current position as COO, where her leadership has been instrumental in launching Global DMS' next-generation appraisal management software, EVO™. This innovative platform shatters the constraints of yesteryear software systems via its unprecedented configurability and workflow automation – allowing mortgage lenders and appraisal management companies (AMCs) to customize all aspects of the platform, including its fields, in real time.
For more information, check out the official press release.
Virtual Inspection Technology Shortens Appraisal Turn-Times
COVID-19 opened the door for innovative tools that allow mortgage lenders, AMCs, and appraisers to complete compliant inspections without ever setting foot on the property – leading to newfound efficiencies. Global DMS' EVO™ appraisal management software provides such functionality via its Virtual Inspection Tool, which allows these entities to complete appraisals right from their desk. Users can secure the required pictures of a subject property directly from its current occupant, who also answers pre-set questions about the property's condition. The entire process is automated, secure, protects against fraud, and requires no additional work or oversight from those using EVO, who never have to leave the platform.