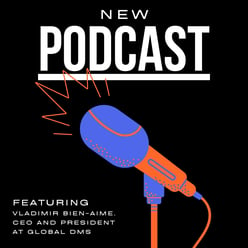 The mortgage industry, and real estate appraisals in particular, have seen significant changes over the past year, as COVID-19 restrictions and higher than average loan volumes have created a need for a more digital valuation process to help eliminate backlogs and delays.
Global DMS' CEO, Vladimir Bien-Aime, recently spoke with PROGRESS In Lending during its latest Lending Buzz Podcast to discuss this very subject and provide his expert analysis on how mortgage lenders can utilize next-gen appraisal management technologies to transform their valuation process for the better.
During the Podcast, Vlad discusses how lenders should leverage innovative appraisal technologies to better manage high loan volumes and points out the numerous benefits realized when using such platforms. He also speaks about the common challenges many lenders face when implementing these technologies and provides advice on how to overcome these challenges to ensure a seamless transition.
For all the details, check out the podcast recording here.
Self-Configurable Technology is Key for an Efficient Appraisal Process
Do you follow a specific real estate appraisal process that matches your exact business model, with unique terminology, forms, communications, and reports? Though the trend to digital is real, most appraisal management technologies follow a one-size fits-all approach – requiring lengthy and expensive development work for the simplest of changes and requests. Global DMS' EVO™ appraisal management software is different, providing a 100% self-configurable platform that allows the end-user to customize all aspects of the software on the fly (including fields) – no development work required.