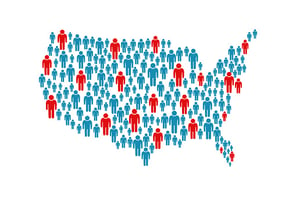 Freddie Mac recently issued an Insight report titled, "Population Growth: Where Are People Moving?", which focuses on the country's population growth and where this was occurring most.
The GSE mentioned that it carefully studied historical data while conducting its research, which shows the U.S. regions and metropolitan statistical areas (MSA) that have been gaining population and the factors driving these trends.
Within its press release, Freddie Mac also highlighted several key findings, including:
Between 2017 and 2019, U.S. population growth in the South and West grew seven times faster than in the Northeast and Midwest.
60% of MSAs are experiencing more growth in the suburbs than in the cities.
Dallas, Houston, and Phoenix have had the highest absolute growth in population over the past ten years.
For more information, check out the GSE's Insight report.
Source:
Freddie Mac – freddiemac.com