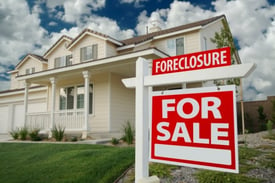 The FHFA recently issued its Q1 Foreclosure Prevention and Refinance Report, which showed the GSEs completed 224,646 foreclosure prevention actions from January through March 2021. The report also found that less loans are now in forbearance, as only 2.2% of all Fannie Mae and Freddie Mac single-family conventional loans remain in this state – down 0.6% from the fourth quarter of 2020.
The total number of homeowners helped during conservatorship is now at 5.8+ million, according to the FHFA, but the agency did find that foreclosure starts rose 45% during Q1, with a total of 9,125.
However, the GSEs' 60-plus days delinquency rate decreased from 3.07% at the end of December 2020 to 2.68% at the end of March 2021. Likewise, Fannie and Freddie's serious delinquency rate also decreased from 2.78% to 2.48% during this same timeframe.
In addition, the report also noted that loan refinances increased during Q1 from the previous quarter, with 38% of these loan modifications reducing a borrower's monthly payments by more than 20%.
For more information, including additional figures, check out the FHFA's report.
Sources:
The Federal Housing Finance Agency (FHFA) – fhfa.gov
Valuation Review – valuationreview.com
EVO™ Provides Worry-Free Compliance, Guaranteed
No matter what changes occur in the real estate appraisal industry, remaining compliant is always at the forefront of every business, as one mis-step can have catastrophic consequences. Global DMS' EVO appraisal management software protects your business via our unique Compliance Guarantee Program, which covers all fines in the event a client is found out of compliance but is using the platform's Best Practice Configuration that's based on automation. This unique program effectively removes appraisal risk from the equation, while ensuring all EVO users comply with Dodd-Frank's Section 1471, ECOA's Regulation B, TILA's Regulation Z, USPAP, and both the GSEs and FHA's seller guides.