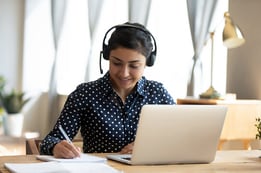 Fannie Mae recently published a survey of over 200 senior mortgage executives about their post-pandemic workplace plans, with a majority indicating a preference to implement a hybrid model – utilizing a mix of remote and in-office employees.
Many of these executives reported that working remotely improved productivity and lowered operating costs. However, they also noted that employee collaboration within and across business functions did suffer at times as a result of everyone being isolated away from the office.
Roughly 77% of respondents anticipate an increase in employee requests for long-term or permanent remote work arrangements, with 79% also reporting a preference for this type of hybrid model that features a mix of both remote and in-office employees.
When asked who would likely need to return to the office, senior management was most often cited, followed by those in customer-facing and other functional roles – including loan officers, post-closing support staff, and collateral handling/shipping staff.
For the minority who expect their remote workforce to decrease once the pandemic is under control, their reasoning is based on greater concern with business process flows and talent onboarding and integration.
To see the full results of Fannie Mae's survey, as well as additional commentary, click here.
Sources:
Fannie Mae – fanniemae.com
The MReport – themreport.com
EVO's Centralized, Role-Based Design Simplifies Appraisal Management
For most financial institutions, the real estate appraisal process often involves a complex web of different players, including both internal staff and external vendors. Global DMS' EVO™ appraisal management software simplifies how one manages this crucial process by providing a centralized platform that facilitates all documentation and communications, with custom dashboards and task lists based on the user's role that prevent the cross-population of work – enabling a cohesive valuation workflow.