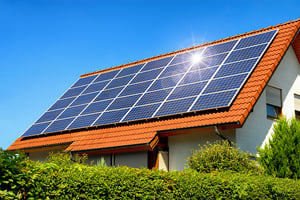 Back on August 5th, Fannie Mae updated their Selling Guide to provide clarification on appraising properties with Solar Panels. To help further explain these appraisal requirements, the GSE announced that it has created a one-page overview, which is broken down by common types of ownership and debt financing.
Known as "Appraising properties with solar panels," Fannie's one-pager also provides a detailed table that summarizes some of the specific underwriting criteria for appraisals that include solar panels. It also talks about what lenders are responsible for and goes into detail about what must be done when insufficient documentation is available and the ownership status of the panels is unclear.
In addition, the one-pager also discusses an appraiser's responsibility when evaluating the value impact of energy efficiency improvements, as well as when they cannot adjust the value of the property.
For more information, check out Fannie Mae's "Appraising properties with solar panels" one-pager.
Source:
Fannie Mae – fanniemae.com
EVO™ Provides Worry-Free Compliance, Guaranteed
"No matter what changes occur in the real estate appraisal industry, remaining compliant is always at the forefront of every business, as one mis-step can have catastrophic consequences. Global DMS' EVO appraisal management software protects your business via our unique Compliance Guarantee Program, which covers all fines in the event a client is found out of compliance but is using the platform's Best Practice Configuration that's based on automation. This unique program effectively removes appraisal risk from the equation, while ensuring all EVO users comply with Dodd-Frank's Section 1471, ECOA's Regulation B, TILA's Regulation Z, USPAP, and both the GSEs and FHA's seller guides.