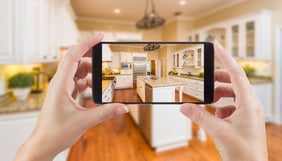 With cold and flu season upon us, as well as the ongoing COVID-19 pandemic, having the right appraisal management technology is crucial for not only ensuring staff and vendor safety, but timely appraisals that meet all requirements.
COVID-19, and its social distancing guidelines, opened the door for innovative tools that now allow mortgage lenders, AMCs, and appraisers to complete compliant inspections without ever setting foot on the property – leading to newfound efficiencies and the ability to complete more orders in half the time.
Global DMS' EVO® appraisal management software provides such functionality via its Virtual Inspection Tool, which allows these entities to complete appraisals right from their desk.
With EVO's Virtual Inspection Tool, users can secure the required pictures of a subject property directly from its current occupant, who also answers pre-set questions about the property's condition. The entire process is automated, secure, protects against fraud, and requires no additional work or oversight from those using EVO, who never have to leave the platform.
EVO also provides direct access to industry-leading AVMs from within its unique Marketplace, including products from Black Knight® and Collateral Analytics™, which are designed to deliver accurate, timely, and cost-effective property value information right to your computer or mobile device.
To learn more about our innovative EVO platform, and how it can reduce your valuation turn-times by up to 30%, contact Global DMS® today at evoinfo@globaldms.com.