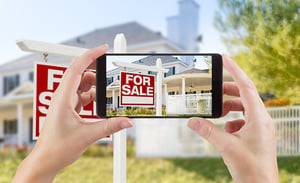 As COVID-19 continues to spread, Global DMS® understands the need for safe and compliant social distancing for real estate appraisals. With this in mind, we've equipped our EVO™ appraisal management software—a new-age valuation technology that provides a fully digital process—with an innovative Virtual Inspection Tool – providing mortgage lenders, AMCs, and appraisers with a secure method of facilitating the delivery of photographs of the subject property when access to the property is unavailable.
The EVO Virtual Inspection Tool allows users to seamlessly request and receive high quality photos of both the interior and exterior of the subject property directly from its current occupant – using these photos to complete their real estate appraisals without ever setting foot on the property. The entire process is automated, secure, protects against fraud, and requires no additional work or oversight from those using EVO, who never have to leave the platform.
Other benefits include:
Provides unlimited retakes, ensuring only high-quality photos.
Includes pre-set questions for the current occupant about the quality, condition, and unique characteristics of their property.
"In addition to providing outstanding appraisal management technologies, the safety of our clients is of top concern," said Global DMS COO, Jody Collup. "EVO's Virtual Inspection Tool not only provides timely, cost-effective, and accurate values for all loan types, it allows those using EVO to efficiently complete their valuations without ever leaving their desk."
Though developed for today's unique mortgage environment, EVO's Virtual Inspection Tool will continue to serve its users well into the future by providing a simple and completely digital method for securing the primary photos of a subject property as quickly as possible – helping to streamline their appraisal process and decrease turn-times.
For more information, contact Global DMS today at evoinfo@globaldms.com.
Already using EVO? Please contact Global DMS Account Management at 877-866-2747 (option 4).