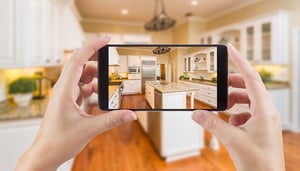 Global DMS® recently integrated its EVO™ appraisal management software, an innovative valuation technology that shatters the constraints of yesteryear software designs, with ProxyPics – a patented, secure mobile app that provides a method of facilitating the delivery of photographs of a subject property when access to the property is unavailable.
Through this integration, lenders, AMCs, and appraisers who utilize EVO can seamlessly request and receive high quality pictures of both the interior and exterior of a subject property directly from the home occupant – using these photos to complete their real estate appraisals without ever setting foot on the property.
The entire process is automated, secure, protects against fraud, and requires no additional work or oversight from those using EVO – who never have to leave the platform.
Other benefits include:
Provides unlimited retakes, ensuring only high-quality photos.

Includes pre-set questions for the home occupant about the quality, condition, and unique characteristics of their home.
In addition, all real estate appraisers are able to obtain a free EVO ProxyPics account – promoting safe social distancing, while allowing these professionals to continue working unimpeded.
For more information, contact Global DMS today at evoinfo@globaldms.com.
Already using EVO? Please contact Global DMS Account Management at 877-866-2747 (option 4).