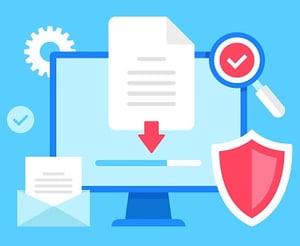 Even with the ECOA Appraisal Rule in effect for some time now, many financial institutions have overlooked a key mandate within this regulation that requires lenders to "obtain the applicant's consent [to receive an electronic copy of the document] under the Electronic Signatures in Global National Commerce Act (E-Sign Act)."
Whenever appraisal files are delivered to a borrower electronically via email, the E-Sign Act (in accordance with ECOA) requires:
The applicant's consent to receive the document electronically.
That the applicant be provided with an accurate statement of the hardware and software requirements for successful receipt of the electronic document.
That the applicant agrees to maintain, or have access to, a computer system with PDF reading software so appraisal documents can be viewed and downloaded.
Global DMS' EVO™ appraisal management software not only provides such functionality, it backs up this promise with the industry's only Compliance Guarantee Program.
EVO automates the delivery of electronic appraisal documents to the borrower as part of the standard workflow, which includes both a unique security code and a "Access Documents" link – presenting them with a special page to enter their specific security code.
Once this code has been validated, the borrower must then read and acknowledge the Disclosure and Consent Concerning Electronic Records and Signatures, which can be customized by the lender to fit their specific language and preferences. This acknowledgement not only demonstrates the borrower's willingness to receive appraisal files electronically, it also enables them to select and download the delivered documents directly from their computer or other device.
An electronically signed PDF copy of their consent is then uploaded to the order for the lender's records. Likewise, EVO also logs the dates and times the appraisal files were delivered, viewed, acknowledged, and downloaded by the borrower for future audits.
For more information on EVO, and its award-winning functionality that guarantees ECOA compliance, contact Global DMS® at evoinfo@globaldms.com.