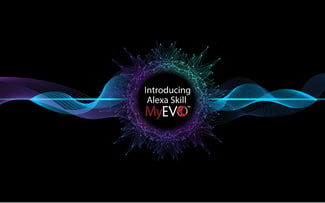 Global DMS® is proud to announce that our EVO® appraisal management platform is now voice-enabled, providing lenders access to key functionality and up to the minute information of their entire pipeline with Amazon's Alexa voice control.
EVO is the first and only appraisal management software to provide this capability in the mortgage industry, which allows its users to securely access all appraisal information in their accounts through all Alexa capable devices, like Echo, Echo Dot, Echo Tap, and the mobile Alexa apps for iPhone and Android by simply saying, "Alexa, Open MyEVO™."
Users can then ask Alexa, Amazon's artificial intelligence that powers Alexa-enabled hardware and its associated products, to launch the MyEVO skill that enhances the virtual assistant's ability to conduct appraisal management tasks, such as ordering an appraisal, providing appraisal status updates, and delivering EVO's latest product enhancements and company news.
For more information, check out our official press release.
AI Powered Automation Helps Reduce Appraisal Turn-Times
Global DMS' EVO™ appraisal management software streamlines your real estate appraisal process through next-gen features and reliable workflow automation that produce real results. This includes the platform's advanced auto-assignment functionality, which utilizes cascading decisioning technology and powerful AI designed to emulate your thought process via dynamic rule-sets that are easily configured ahead of time – providing quick assignments of only the most qualified appraisers or reviewers. However, this is only the tip of the ice burg when it comes to EVO's automation capabilities, which cover the entire valuation process through final delivery. For more information, or to see a quick demo, contact us today.