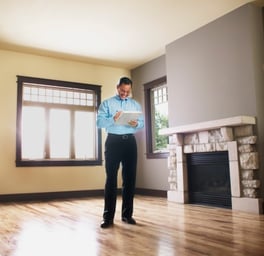 For years, real estate appraisers have been forced to use valuation management software for their lender or AMC clients that are cumbersome – requiring different log-in credentials and separate dashboards for each individual client they're completing orders for.
Global DMS' EVO™ appraisal management software was designed to make everyone's daily process easier—including the appraisers—which has led to a revamp of how these vendors traditionally utilize these systems.
First, we simplified the registration process so that it only takes 3 minutes to complete. Once an appraiser is registered on the EVO Network, mortgage lenders and AMCs are then able to instantly locate their profile and establish a connection (similar to social media) to begin sending new assignment requests for both residential and commercial properties.
Second, appraisers are only required to remember one set of log-in credentials, no matter how many lenders or AMCs they're completing orders for, with all their clients being managed from a single dashboard – promoting organization and efficiency.
In addition, this free network allows appraisers to seamlessly facilitate their assignments with a plethora of usable features – including a reliable task manager and activity log with automatic notifications and alerts, a robust Vendor Profile that manages crucial documents, fees, services, etc., detailed reporting, financials, and more.

EVO's MARS Simplifies Appraisal Reviews
Are you concerned with how complex real estate appraisal reviews have become? Global DMS' MARS®, a standard component of our EVO™ appraisal management software, essentially eliminates these concerns by automating your appraisal reviews – expediting a once grueling task and further ensuring compliance. MARS quickly analyzes an appraisal for completeness, consistency, and compliance with all GSE guidelines, USPAP, UAD, and industry best-practice, providing accurate reviews in seconds. MARS also significantly reduces review times by instantly directing reviewers to the areas of the appraisal the need their attention most, providing clear directives on a resolution.