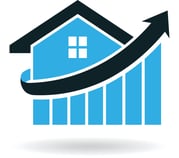 ATTOM™ Data Solutions recently issued its Q2 U.S. Home Equity & Underwater Report, which showed that 34.4% of residential mortgages were considered equity rich during the second quarter of 2021.
The rapid rise in home prices over the last couple years has led to this surge in equity and could help reduce the number foreclosures seen as the moratoria at both the federal and local levels eventually expires.
ATTOM's report also found that only 4.1% of residential mortgages were considered seriously underwater during the second quarter, which is down 2.1% year-over-year. This collective rise in homeowner equity, along with far less underwater borrowers, could lead to struggling homeowners selling their properties before facing foreclosure – which would also help replenish a very thin housing market.
For more information, including regional breakdowns, check out ATTOM's report.
Sources:
ATTOM Data Solutions – attomdata.com
DS News – dsnews.com
Virtual Inspection Technology Shortens Appraisal Turn-Times
COVID-19 opened the door for innovative tools that allow mortgage lenders, AMCs, and appraisers to complete compliant inspections without ever setting foot on the property – leading to newfound efficiencies. Global DMS' EVO™ appraisal management software provides such functionality via its Virtual Inspection Tool, which allows these entities to complete appraisals right from their desk. Users can secure the required pictures of a subject property directly from its current occupant, who also answers pre-set questions about the property's condition. The entire process is automated, secure, protects against fraud, and requires no additional work or oversight from those using EVO, who never have to leave the platform.