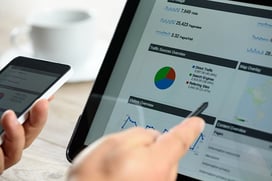 As the mortgage industry continues to see unprecedented demand, the need for instant visibility over one's processes has become essential in order to help manage these larger loan volumes.
This is especially true with real estate appraisals, in which lenders and AMCs must take the appropriate steps to ensure their valuation process is both efficient and effective. However, achieving complete visibility over this intricate process, which typically involves multiple players, is near impossible without the use of a robust reporting tool that promotes automation.
This modern approach to reporting provides lenders and AMCs with a competitive advantage by helping their staff easily track all aspects of their unique valuation process. Not only does this grant processors a more realistic idea of appraisal turn-times, it allows management to instantly capture valuable data that can help eliminate process bottlenecks.
To have the best-of-the-best, it's important to utilize an appraisal management technology that's equipped with the following reporting capabilities:
Custom reporting that's able to capture data from any field within the system.
Real-time reports on your various appraisal processes and communications.
The ability to understand your average appraisal turn-times.
Automated management reports delivered to who you want when you want.
Global DMS' EVO™ appraisal management software provides the complete visibility lenders and AMCs need via its robust reporting, which includes both built-in reports and the ability to create custom reports in minutes without the need of third-party developers – no tickets, no waiting, no hassle.
Most importantly, these reports can capture data from any field within the system and your saved forms, keeping you on-top of every aspect of your appraisal process. EVO also allows its users to automate their reports, which are instantly delivered to the necessary employees. This on-demand approach is easy to configure and ensures the availability of critical information when it's needed most.
Interested in a demo? Contact Global DMS® today at evoinfo@globaldms.com to learn more about EVO and its award-winning functionality.