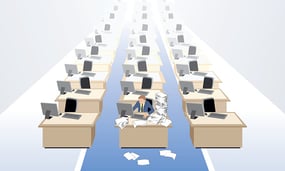 According to a recent, nationwide survey conducted by Quinte Financial Technologies, many community banks and credit unions notated a widespread shortage of qualified personnel to manage critical back-office functions – such as fraud mitigation, dispute resolution, compliance, mortgage processing, and customer service.
Quinte mentioned that staffing challenges were attributed to COVID-19 and the reluctance of many to commute and return to an office setting. The survey also found that changes in career aspirations has affected recruitment.
Though the digitization of financial services has reduced the number of physical branch locations and ensured consumer reliance of their personal devices for deposits, loan applications, and more, these back-office functions still require people to manage. That said, outsourcing key operational functions and the use of reliable, AI powered technologies can help these financial organizations not only weather the storm but thrive in this new environment.
For more information, check out Quinte's press release.
Sources:
Quinte Financial Technologies – quinteft.com
NEXT – nextmortgagenews.com
AI Powered Automation Helps Reduce Appraisal Turn-Times
Global DMS' EVO® appraisal management software streamlines your real estate appraisal process through next-gen features and reliable workflow automation that produce real results. This includes the platform's advanced auto-assignment functionality, which utilizes cascading decisioning technology and powerful AI designed to emulate your thought process via dynamic rule-sets that are easily configured ahead of time – providing quick assignments of only the most qualified appraisers or reviewers. However, this is only the tip of the ice burg when it comes to EVO's automation capabilities, which cover the entire valuation process through final delivery.