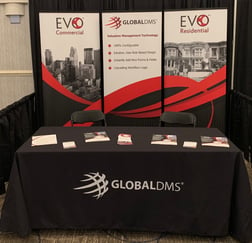 Over the next couple months, Global DMS® will be attending several mortgage industry events throughout the country, where we will be exhibiting our innovative EVO™ appraisal management software to showcase its game-changing abilities that reduce valuation turn-times by up to 30%.
Our company's representatives, including Nick Myhasuk, Kiana Escandon-Capanna, Dylan Gharabaghi, and John Pendergrass, look forward to sharing their valuable insights regarding today's digital trends (especially in the real estate appraisal space) as well as networking with new contacts and old friends.
Upcoming Conference Lineup:
If you're also attending any of these events, stop by the Global DMS booth to learn how EVO can transform your valuation process with real results that lead to efficient closings.
AI Powered Automation Helps Reduce Appraisal Turn-Times
Global DMS' EVO™ appraisal management software streamlines your real estate appraisal process through next-gen features and reliable workflow automation that produce real results. This includes the platform's advanced auto-assignment functionality, which utilizes cascading decisioning technology and powerful AI designed to emulate your thought process via dynamic rule-sets that are easily configured ahead of time – providing quick assignments of only the most qualified appraisers or reviewers. However, this is only the tip of the ice burg when it comes to EVO's automation capabilities, which cover the entire valuation process through final delivery. For more information, or to see a quick demo, click the button below: