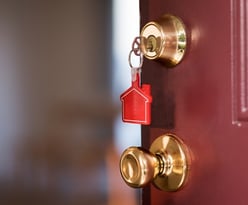 According to a recent report from Redfin, housing market demand continued to cool in June, as only 65% of home offers written by the company's agents faced competition – compared to 72.1% in May and 74.1% in April.
Obviously, there is still high demand for homes and the bidding war rate was up 56.8% year-over-year compared to June 2020. However, Redfin reported that buyer fatigue has been a factor in pushing down the competition rate over the last few months, with many potential homebuyers giving up after repeatedly losing bidding wars and/or being priced out of the market.
In addition, Redfin's report also found that new homes hitting the market was up 4% from June 2020 and 3% from June 2019 – showing that more houses are finally starting to become available to the masses still seeking the American Dream. Of note, this was the first time new listings have surpassed 2019 levels since the beginning of the year.
For more information, including addition metrics, check out Redfin's report.
Sources:
Redfin
DS News – dsnews.com
EVO™ Provides Worry-Free Compliance, Guaranteed
No matter what changes occur in the real estate appraisal industry, remaining compliant is always at the forefront of every business, as one mis-step can have catastrophic consequences. Global DMS' EVO appraisal management software protects your business via our unique Compliance Guarantee Program, which covers all fines in the event a client is found out of compliance but is using the platform's Best Practice Configuration that's based on automation. This unique program effectively removes appraisal risk from the equation, while ensuring all EVO users comply with Dodd-Frank's Section 1471, ECOA's Regulation B, TILA's Regulation Z, USPAP, and both the GSEs and FHA's seller guides.