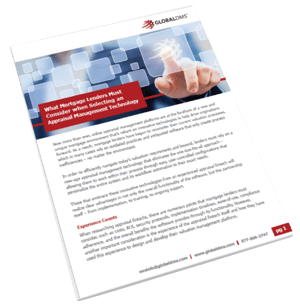 As COVID-19 restrictions, high demand, and appraiser attrition continue to transform the real estate valuation industry into a more digital process, online appraisal management technologies have become even more critical to help facilitate timely closings and happy customers.
As a result, many financial institutions have begun to reconsider their current valuation processes, which tend to fall victim to outdated practices and antiquated software that only create inefficiencies.
In order to effectively navigate an ever-evolving industry, mortgage lenders must rely on a new-age appraisal management software that can evolve with them through easy, user-controlled configurations that provide direct control over the entire system (including fields) – all in real-time.
But how does one begin vetting appraisal management technology providers, and what should lenders be looking for to ensure they are receiving the best-of-the-best in terms of software and customer service?
Global DMS' latest whitepaper, "What Mortgage Lenders Must Consider when Selecting an Appraisal Management Technology," addresses these important questions by providing best practices for internal planning, external research, software functionality, implementation, and more that's based on 21 years of experience working with lenders of all sizes.
To download your free copy, click here.
Self-Configurable Technology is Key for an Efficient Appraisal Process
Do you follow a specific real estate appraisal process that matches your exact business model, with unique terminology, forms, communications, and reports? Though the trend to digital is real, most appraisal management technologies follow a one-size fits-all approach – requiring lengthy and expensive development work for the simplest of changes and requests. Global DMS' EVO™ appraisal management software is different, providing a 100% self-configurable platform that allows the end-user to customize all aspects of the software on the fly (including fields) – no development work required.