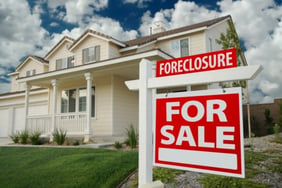 Auction.com recently issued its latest Foreclosure Market Forecast, which found that completed foreclosure auctions increased 16% in Q3 from the previous quarter and 89% from Q3 2020. That said, the company did notate that foreclosure volume is still 68% below pre-pandemic levels.
With protections beginning to end in June, it wasn't unexpected to see a rise in foreclosures – whose sale rate, which measures demand at foreclosure auctions, stood at 61% during Q3. This was nearly a 6% increase from a year ago and well above the 38% that was reported pre-pandemic in 2019.
According to Auction.com's report, the states with the highest foreclosure sale rates were Idaho, Arizona, California, Texas, Georgia, and Delaware. The report also found that the average sale price of foreclosed homes increased over the last several months, as auction prices rose to an eight year high of $167,503 – up 15% from Q2 and 42% from Q3 2020.
In addition, the report also spells out foreclosure auctions by loan-type, where USDA loans made up 4%, VA loans 5%, GSE held loans 29%, FHA loans 36%, and private portfolio loans 37%.
For all the details, including additional metrics and analysis, check out Auction.com's report.
Sources:
Auction.com – auction.com
DS News – dsnews.com
AI Powered Automation Helps Reduce Appraisal Turn-Times
Global DMS' EVO® appraisal management software streamlines your real estate appraisal process through next-gen features and reliable workflow automation that produce real results. This includes the platform's advanced auto-assignment functionality, which utilizes cascading decisioning technology and powerful AI designed to emulate your thought process via dynamic rule-sets that are easily configured ahead of time – providing quick assignments of only the most qualified appraisers or reviewers. However, this is only the tip of the ice burg when it comes to EVO's automation capabilities, which cover the entire valuation process through final delivery.