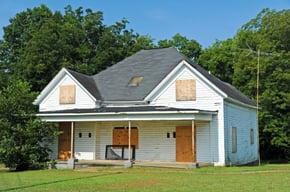 ATTOM™ Data Solutions recently issued its Vacant Property and Zombie Foreclosure Report for the second quarter of 2021, which analyzes public data (such as foreclosure status, equity, and owner-occupancy status) and matches it with monthly vacancy data.
According to the company's report, just over 1.4 million residential properties are currently vacant this quarter, which represents 1.4% of all homes in the U.S. The number of empty pre-foreclosure zombie homes is up both quarterly by 21% and annually by 5.6%, with 33 states experiencing increases.
The report also provided the top 5 states with the most zombie foreclosures, which includes New York, Ohio, Florida, Illinois, and Pennsylvania (in that order), and shows where the biggest increases are occurring within the country.
For all the details, check out ATTOM's full report.
Sources:
ATTOM™ Data Solutions – attomdata.com
National Mortgage Professional – nationalmortgageprofessional.com
Virtual Inspection Technology Shortens Appraisal Turn-Times
COVID-19 opened the door for innovative tools that allow mortgage lenders, AMCs, and appraisers to complete compliant inspections without ever setting foot on the property – leading to newfound efficiencies. Global DMS' EVO™ appraisal management software provides such functionality via its Virtual Inspection Tool, which allows these entities to complete appraisals right from their desk. Users can secure the required pictures of a subject property directly from its current occupant, who also answers pre-set questions about the property's condition. The entire process is automated, secure, protects against fraud, and requires no additional work or oversight from those using EVO, who never have to leave the platform.