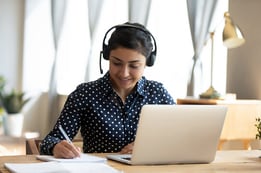 The Appraisal Foundation recently announced that its Appraiser Qualifications Board (AQB) has adopted a new edition of the Real Property Appraiser Qualification Criteria, which provides qualification standards and continuing education guidelines for real property appraisers in the U.S.
The AQB's changes will take effect on January 1, 2022 and will allow synchronous courses to be considered equivalent to in-person classroom courses. These courses will also no longer be required to have a delivery mechanism approval and an alternative course delivery mechanism approval was introduced for asynchronous courses.
The AQB's updates also touch upon hybrid courses, which will have to meet the requirements for each specific course delivery method (synchronous or asynchronous). In addition, qualifying and continuing education courses will be able to use remote proctoring, including bio-metric proctoring.
For more info, check out the Appraisal Foundation's press release.
Source:
Appraisal Foundation – appraisalfoundation.org
Join Our Free EVO® Network!
Global DMS' EVO appraisal management software was designed to make everyone's real estate valuation process easier, including the appraisers, which led us to revamp how these vendors traditionally utilize these technology platforms. We've simplified the registration process so it only takes 3 minutes to complete and provide appraisers with a single sign-on and dashboard that can be used for all of their clients who utilize EVO. This free network also allows appraisers to seamlessly facilitate their assignments with tons of useful and reliable features.