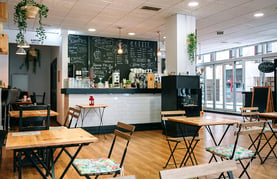 The Appraisal Institute recently issued a new book titled, "A Guide to Appraising Restaurants," which explores the complex issues that commercial real estate appraisers, brokers, lenders, and reviewers face when valuing restaurant properties.
According to the Appraisal Institute's press release, its new book looks into important market trends, property analyses, and three key approaches to value. In addition, it also examines case studies and real-world examples of valuation scenarios that provide insight and guidance from industry experts.
Those interested in purchasing this new book may do so on the Appraisal Institute's website.
For more information, check out the official press release.
Source:
Appraisal Institute – appraisalinstitute.org
EVO® Provides Voice Activated Appraisal Management via Amazon's Alexa
Global DMS' EVO appraisal management platform is now voice-enabled, providing mortgage lenders, credit unions, and appraisers with instant access to key functionality and up to the minute information of their entire appraisal pipeline with Amazon's Alexa voice control. EVO is the first and only appraisal management software to provide this capability, which allows its users to securely access all appraisal information in their accounts through Alexa capable devices, like the Echo, Echo Dot, Echo Tap, and the mobile Alexa apps for iPhone and Android. Users can ask Alexa to conduct appraisal management tasks, such as ordering an appraisal, providing appraisal status updates, and more.