Vladimir Bien-Aime, CEO and President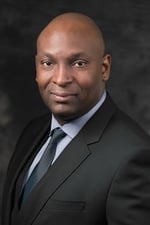 Vladimir Bien-Aime is the President and CEO of Global DMS, which he founded in 1999 and built from the ground up. Since that time, he has grown the company into the mortgage industry's leading provider of cloud-based, enterprise-class valuation management software solutions. A consummate technologist and constant innovator, Vladimir was instrumental in architecting Global DMS' comprehensive eTrac® enterprise valuation management platform.
Unlike competing solutions, eTrac contains a highly configurable workflow engine that is driven by sophisticated business rules that seamlessly automates the entire valuation management workflow from start to finish. As a result, clients rely on Global DMS as a single-source solution and provider to streamline the entire valuation process. Global DMS' products are utilized by a variety of different lenders, banks, servicers, AMCs, appraisers and other real estate entities, with over 150,000 unique users now harnessing Global DMS.
Vladimir later developed a number of ancillary products and services that enhanced eTrac and made it more robust. He has spearheaded the company's product expansion to include web-based forms, automated reviews and scoring, vendor communications, compliant UCDP® and EAD portal delivery, among other solutions. Most recently, he launched EVO-Commercial, the next generation of commercial valuation technology.
Vladimir is considered a pioneer in the valuation software space and a subject matter expert who has a deep understanding of complex federal, state and local appraisal-related compliance rules and regulations.
Prior to founding Global DMS, Vladimir consulted on special technology projects that involved the analysis, design and implementation of large-scale software systems for several of the mortgage industry's leading corporations, including CitiGroup, Juniper Bank, First USA, WingSpanBank/Bank One and Standard & Poors, as well as for international pharmaceutical giants Merck and SmithKline Beecham. Before that, he was a Developer, Implementation Manager, and IT Director at Day One Appraisal Software (acquired by Appraisal.com). In addition, he worked in IT for the Department of Environmental Protection.
Vladimir is very active in the mortgage valuation segment and has been recognized with numerous company and personal awards. He regularly presents at industry conferences, participates on thought leadership panels, and authors articles for the mortgage media. Vladimir earned a B.S. in Computer Science from Richard Stockton College of New Jersey.