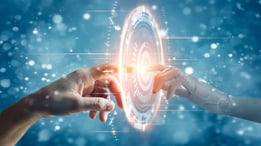 Mortgage Professional America, May 6, 2021 – Technology is finally entering the appraisal space. An area of the mortgage process that has been criticized for inefficiency, frustrating errors, and bias is now being met by a swathe of mortgage tech companies looking to digitize and smooth the appraisal process for the whole industry. Powered by technology, digital appraisals promise to create a viewable, measurable snapshot of a home that's accessible from behind an appraiser's desk.
However, when we talk about something as inherently subjective and insight-driven as appraisal, perhaps a fully digitized option costs us some of that key human element. With this in mind, one mortgage tech company is pushing for an integrated 'hybrid' model that weds tech to human skill and allows for a faster, cheaper and easier process that retains the capacity to problem solve and be creative.
That company is Global DMS, and its digital appraisal product is called EVO. Vladimir Bien-Aime (pictured), CEO and president of Global DMS, told MPA about how a hybrid appraisal process works and how EVO is designed to facilitate this approach. He explained why it will drive speed and efficiency without costing that key human element and he laid out how and why individual mortgage professionals should get on board with these innovations.
"A hybrid appraisal is a type of desktop appraisal. It is a valuation of a property completed by a licensed appraiser who has never visited the property. When you choose a hybrid appraisal, appraisers use information provided by a third party, rather than gathering it themselves," Bien-Aime said. "Hybrid appraisals use technology to make the process faster and more efficient, with shorter forms than a traditional appraisal and tasks performed at a desk by an appraiser who hasn't inspected the property."