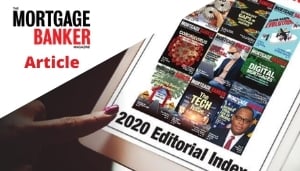 The Mortgage Banker Magazine Article, December 2, 2020 – The appraisal process has numerous moving parts and compliance requirements, which would be simplified using automation technology, that's traditionally riddled with manual processes and inefficiencies. Lenders understand that creating a protective firewall between the loan production staff and their appraisers is required for compliance (AIR), but this is also essential for both a sound loan program and selling to the secondary market.
The appraisal process has many segments that provide significant opportunities for improvement in performance and countless other ongoing issues. A simple appraisal order request, for example, often requires an external website visit and separate credentials, including a manual rekeying of the basic information already kept in the Loan Origination System (LOS). This manual process typically involves using the organization's stand- alone order form, email, fax or logging on to an AMC website. This becomes more challenging in a team environment and lacks control, transparency and is subject to costly duplicate ordering and incorrect appraisal product selection. Furthermore, some lender's processes require them to utilize a third-party to provide the borrower with a credit card payment option.
Global DMS' next-generation appraisal management technology, EVO™, provides complete automation of the appraisal process and plug and play integrations to the LOS. Lenders can order appraisals and charge the borrower's credit card directly within their LOS, such as Ellie Mae's Encompass®, without re-keying data. In addition, completed appraisal reports and the GSE's UCDP® Submission Summary
Reports (SSR) are returned seamlessly to the LOS with all relevant communication documented, eliminating the need for human intervention - thus eliminating
human error.