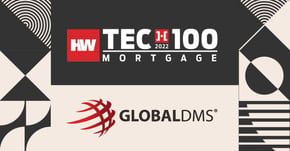 LANSDALE, PA, March 1, 2022 – Global DMS, a leading provider of cloud-based appraisal management software, is excited to announce that we have been named a 2022 Tech100 Mortgage Honoree. The Tech100 recognizes the most innovative technology companies in the housing economy.
The Tech100 program provides housing professionals with a comprehensive list of the most innovative and impactful organizations that can be leveraged to identify partners and solutions to the challenges that mortgage lenders and real estate professionals face every day.
"As the only program in the industry that highlights tech innovation, Tech100 is truly a special honor for these organizations that span across every aspect of the housing economy," HW Media Editor in Chief Sarah Wheeler said. "These companies are continuing to raise the bar in supporting a more efficient, accessible and sustainable housing economy and each year continues to be more competitive than the last."
Each year the Tech100 program grows more competitive and the applicants increase in caliber as the demand for technology in the industry continues to progress. For the third year in a row, the Tech100 program was presented in two groups — HW Tech100 Mortgage and HW Tech100 Real Estate — to highlight the innovation and achievements of organizations within both sectors.
"We are honored to be named in the HousingWire Tech 100 this year. As one of the first appraisal management software companies launched in the industry, we are delighted to be recognized by HousingWire magazine for our technology and success. By listening to the needs of our clients, we continue to evolve our appraisal management software to lower lender and AMCs costs while increasing their process efficiencies, staff productivity, and ROI. Global DMS will continue to seek ways to improve the appraisal management process for lenders and be at the forefront of innovation," COO of Global DMS Jody Collup stated.
Global DMS recently announced its newest innovation MyEVO™, voice-activated appraisal management, providing its users with access to critical functionality and up to the minute information of their entire valuation pipeline via Amazon's Alexa voice control – making EVO the first and only appraisal management software to provide this capability in the mortgage industry.
"This year's list of Tech100 honorees proves once again that innovation within housing is vital in differentiating the organizations who will thrive and those who will be left behind," said Clayton Collins, CEO of HW Media. "This list spotlights the innovators that are making the housing sector better and more sustainable by increasing efficiency, improving user and borrower experiences and bringing elasticity and improvements to age-old processes."
Global DMS was also named the HousingWire Tech 100 winner in 2017, 2019 and 2020 and we are proud to be named this year again.
To view the Tech100 list, click here.
About Global DMS:
Founded in 1999 and headquartered in Pennsylvania, Global DMS is a leading provider of cloud-based commercial and residential real estate valuation solutions. The company's solution set is cost-effectively delivered on a software-as-a-service (SaaS) transactional basis that ensures compliance adherence, reduces costs, increases efficiencies, and expedites the entire real estate appraisal process. Global DMS solutions include its new EVO-Residential™ (EVO-Res) platform for residential lending, EVO-Commercial™ (EVO-C) platform for commercial lending, eTrac® Enterprise valuation management platform for residential lending, SnapVal™ appraisal pricing solution, eTrac WebForms, Global Kinex®, AVMs, the MISMO Appraisal Review System (MARS®), ATOM (Appraisal Tracking on Mobile). For more information, visit www.globaldms.com or call (877) 866-2747.